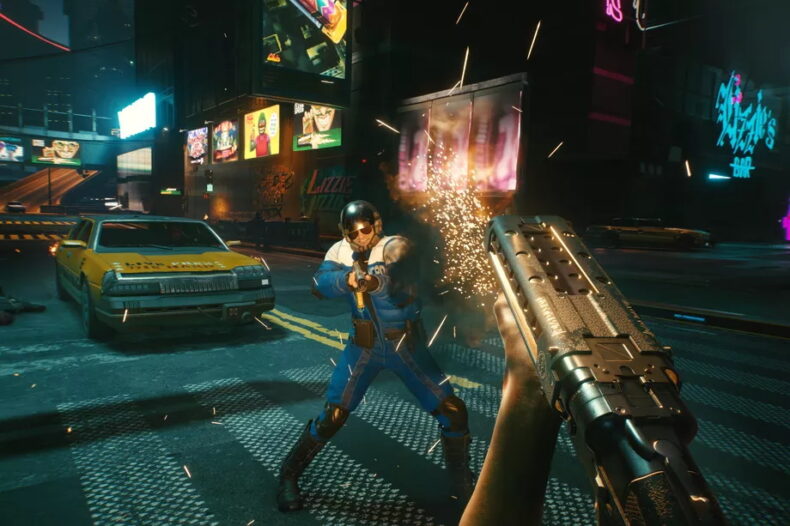 The pre-ordered version of the Cyberpunk 2077 didn't really play out as expect for many players who tried playing it for the first time on PlayStation 4 and Xbox One Consoles. The consoles were riddled with bugs as the graphics broke from all sides.
I have seen videos of the game where cars would simply go through walls and police NPCs were standing half above the ground and half of the body was buried in the ground.
"New hotfix to #Cyberpunk2077 is now live on PlayStation consoles and PC," the team at CD Projekt Red said in a tweet. "For Xbox systems, we are working to have the update out as soon as possible." To make sure you've got it installed, keep an eye out for hotfix 1.04.
The new patch arrives one day after the launch of Cyberpunk 2077 brings "Disable Copyrighted Music" Toggle which would be quite useful for content creators in order for them to avoid getting copyright strikes all the time while they try to upload more and more videos and content relating to the game.
There were some flashing light issues that were faced by some reviewers which caused episodes of epileptic seizures before launch. This lead the Polish studio to patch in an epilepsy warning.
Hopefully as time passes there would be some more patches for the game that would make it more enjoyable on the older consoles as well as the new ones.
Hits: 38
This was a feature that should have been with Steam from the start. But it wasn't like many other features. But now with the new update they have added a new "Add to Library" button so that users can add content to their steam library [...]

People are enraged as to why Indonesia would block Steam, Epic Games, PayPal and many other services. Their local government organization called "Kaminfo" is mainly responsible for this widespread block of such services. People have taken to [...]

PakGamersHub.Com is offering money to article writers whom would like to write articles for the website and in turn get paid for it. Since we are new startup we are only offering 50rs (PKR) per article right now. We need fresh articles based on gaming [...]