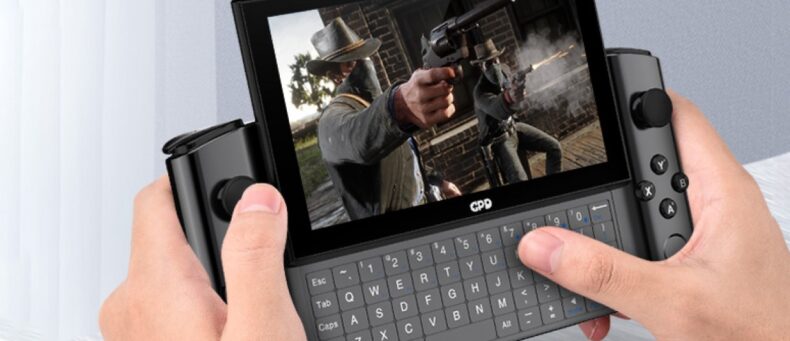 A new brand and type of gaming PC is coming to the market. This the work of a crowd – funded campaign which looks like is going to be a huge success in future. GPD Win 3 is a portable gaming PC running Windows 10 with a game pad integrated into the hardware. Under the 5.5-inch 720p screen is a keyboard that's revealed when the screen slides up. Best part is that it has a fully functional gamepad that includes two joysticks, four triggers along with four action buttons and a directional pad.
For cooling purposes it includes air vents on the rear side of the console along with an exhaust vent towards the top. USB-A port is included along with a power key, headphone jack and a built-in microphone. Loudspeakers are included towards the bottom along with a USB-C Thunderbolt 4.0 port. Customizable controller grips are present that have rumble feedback as well.
The GPD Win3 will, however, be much better equipped to handle modern PC games. The device will be powered by the latest 11th-generation Intel Core i5 (2.4 – 4.2GHz) or i7 (2.8 – 4.7 GHz) and come paired with 16GB of LPDDR4 RAM with 1TB of internal PCIe 3.0 SSD storage. It's got an Intel Xe GPU and comes with Wi-Fi 6, Bluetooth 5.0, and support for a microSD card.
The Win 3 will be powered by a 65W Power Delivery charger. Battery life is expected to last between 2 to 3 hours when playing heavy games, or between 6 to 8 hours with moderate use, or 11 hours with light use.
Hits: 60

Gaming is becoming more of a skill these days than a hobby. Smart gamers enjoy their time and find interesting ways to make money for their hobby as well. Here are some of the ways you can do the same. If your family or friends are not supporting your [...]

Having a laptop is great as long as its up to date and working fine. But as soon as there is one thing that is not working in the laptop most of he times the whole laptop is rendered useless. This has been one of the downsides of using a laptop and does [...]

The game definitely was and still is amazing with its cinematics and amazing story. You simply need to experience them game yourself if you still haven't played it. Here are some of the few moments from the start of the game that are really good. Hits: 1