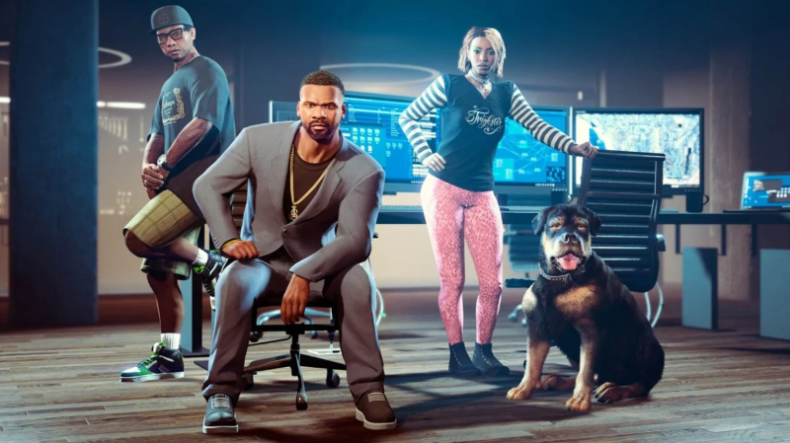 Rockstar surprised everyone with their exciting new announcement regarding GTA 5 Online. They are adding Franklin into the GTA 5 Online story based dlc where he would be helping Dr. Dre recover his lost tunes that were stored in his smart phone.
Franklin making a huge scene in GTA 5 Online. Apparently Franklin is a big shot now and has his own business where he helps out high profile customers like Dr. Dre with their problems. Its nice to see Lamar back in action and the best thing is that chop the dog is going to be back as well.
Everybody used to shout out "Story DLC". It would seem that Rockstar has been slowly delivering on the story dlc but not exactly in the form that we all anticipated in the first place. Rockstar keeps on adding new dlc every year and thing year looks really exciting.
The best part is that we see Franklin having his own office and then we have a party going on in one of the mansions in the game as well. That gives us a notion that we might be getting access to some very high end properties and might be able to buy them as well.
The new update being called "The Contract" seems to be a series of missions maybe heists. It could be something like we did in the original Casino update where we had a series of missions to do and each mission had a payout in the end. These type of missions are not as lucrative as heists but do add more flavor to the story of the game. Just like the Superyacht update we got.
One thing to notice is that Franklin and Lamar do look a bit older as compared to the story mode characters of themselves. Indicating that the online world has moved significantly into the future now. Same thing can be noticed about Chop as he looks older too.
A few screenshots for the current trailer
Hits: 48

NVIDIA, a leading technology company renowned for its graphics processing units (GPUs), has unveiled a groundbreaking innovation that is set to revolutionize the gaming industry. On May 28, 2023, NVIDIA introduced the NVIDIA Avatar Cloud Engine (ACE) for [...]

Introduction: As technology has advanced over the years, so too have gaming mechanics. From the early days of pixelated graphics and simple controls, gaming has undergone significant transformations that have enhanced gameplay and immersion. In this [...]

As gaming enthusiasts, we invest a significant amount of time and money into our consoles, making it essential to take proper care of these prized possessions. While we often focus on keeping our games up to date and ensuring our controllers are in top [...]