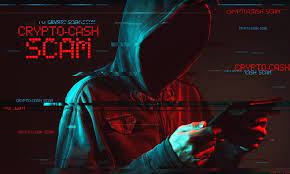 There is saying common on Facebook right now "If you get a message from a hot girl saying she wants you to invest in crypto then don't reply to him".
There are teams of scammers working on Facebook these days who would start off talking to you like a regular person. They are basically tracking you by watching you what kind of groups you are in. If you are in any crypto related groups they would mark you as a target. The conversation would start with something like what type of coins you prefer to invest in. It will go towards if you had any losses in crypto. Most people are suffering some type of loss in crypto.
Based on the conversation they would then refer you to a website where they have been investing in a mining farm for crypto. Asking you to invest in there. It could be a mining farm or a huge investment company that deals in crypto investments. They would even show you proof of their profit streams. If you invest in that scam you would go down the rabbit hole where you will either lose your money or the only way to secure you lost money is to invite more people to invest in the same death trap.
So the advise is, don't talk to people who are seemingly trying to help you with the crypto stuff. Because they are not and they simply want to swindle your money. Its best to report them to Facebook so that they can track them and block their IDs.
Hits: 17

Ponzi schemes have been around for centuries, but in recent years they have evolved with the emergence of new technologies, such as cryptocurrency. Unfortunately, Pakistanis have recently fallen prey to a new Ponzi scheme, involving the IDA app, resulting [...]

Elon Musk, the billionaire entrepreneur and CEO of Tesla and SpaceX, has once again made headlines with his social media presence. On April 3, Twitter changed its blue bird logo to a shiba inu image associated with Dogecoin, a meme-based cryptocurrency [...]

Binance is a popular cryptocurrency exchange app that is widely used in Pakistan. It allows users to buy, sell, and trade a variety of cryptocurrencies, including Bitcoin, Ethereum, and Binance Coin. There are several reasons why Binance has become the [...]