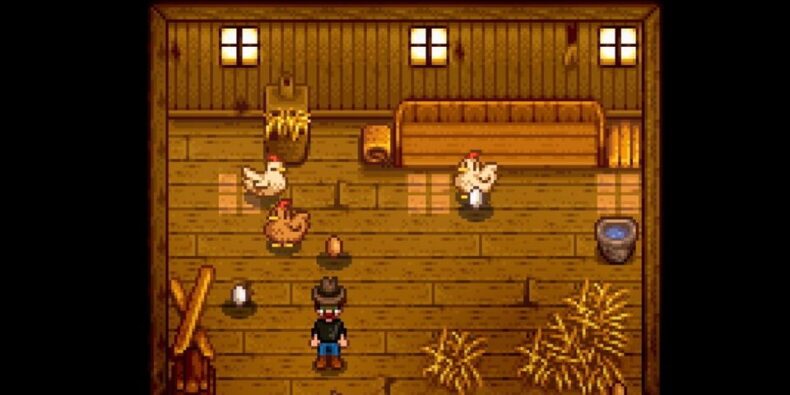 Sanshee has released two new colors that are available for pre-ordering following the release of the Stardew Valley Blue and Black pillow plushes.
Sanshee is an online shop that has been gaining notoriety for its wide range of items available for purchase. The shop offers everything from plush toys and enamel pins to clothing and coffee mugs. One of the shop's most popular items is a Stardew Valley plush pillow, which features two colors of chickens. The shop will soon be offering two new colors of the Stardew Valley chicken plush pillow.
The Stardew Valley chicken pillow plush is currently available in blue and black colors, but Sanshee recently added two new colors open for pre-order. The store is adding the generic white chicken and brown chicken as options, bringing the total number of Stardew Valley chicken items up to four, and all are available for $34.99. Currently, the blue chicken plush is out of stock, but the popular and beloved Void Chicken is still available for purchase. The ConcernedApe brand also offers plush pillows of characters like Abigail, Sebastian with a small frog, and Shane with a chicken, all of which are loved by fans of the game. If you're looking for a unique and fun way to show your Stardew Valley fandom you may order these.
For fans of the hit video game Stardew Valley, these plush chickens are a must-have. Based on the winged creatures that players can find in the game, these pillows are soft, huggable, and sure to please. Measuring eight inches tall, eight inches wide, and nine inches long, they are the perfect size for cuddling. And unlike their in-game counterparts, they don't require any feeding – just lots of love and attention. Officially licensed by ConcernedApe, the creator of Stardew Valley, these pillows make a great gift for any fan of the game.
The new chickens have arrived, and social media is abuzz with excitement. The blue and void chickens are the second wave of colors to be released, and they're already flying off the shelves. One fan even recreated a Stardew Valley chicken through pixel art. It's no surprise one is already out of stock, and it probably won't be long before the remaining three colors follow. Chickens are a big hit in terms of popularity, and it's no wonder the new breeds are selling like hotcakes. Make sure to pre-order your own before they're all gone!
Hits: 10

Epic Games has surprised everyone with the announcement of a Fall Out Boy concert in Fortnite. This is a unique opportunity for all the fans of the band to enjoy their music live in the game. Here's everything you need to know about the event, [...]

Command & Conquer: Tiberian Sun is a classic real-time strategy game released in 1999. Set in a futuristic world, players can choose to play as either the Global Defense Initiative (GDI) or the Brotherhood of Nod, two opposing factions vying for [...]

In recent years, the gaming industry has experienced tremendous growth and has become one of the most popular forms of entertainment worldwide. From casual gamers to professional esports players, gaming has come a long way since its inception. The rise of [...]