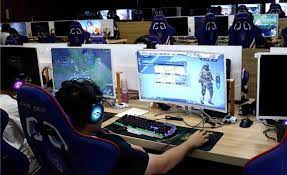 The move by Chinese regulators is being seen as a positive step for the country's gaming industry, which has been hurt by a freeze on monetization of video games since last July. U.S.-listed shares of NetEase, one of China's biggest gaming companies, were up more than 4% in early trade Monday while live-streaming companies Bilibili, Huya and DouYu also jumped. The approval of the first batch of games for monetization is a sign that the Chinese government is taking a more supportive stance towards the gaming industry, which is a major contributor to the country's economy. This is good news for both gamers and game developers in China.
In China, video game companies need approval from regulators before they can monetize their games. On Monday, the country's National Press and Publication Administration approved 45 games for monetization. However, titles from gaming giants Tencent and NetEase were not on the list.
Tencent and NetEase declined to comment when contacted by CNBC. It's not clear why their games were not approved for monetization. It's possible that the Chinese government is cracking down on the gaming industry after recent reports of students becoming addicted to video games.
Nonetheless, the approval of 45 games is a positive sign for the gaming industry in China. It shows that regulators are willing to approve some games for monetization.
The approval of a new online game in China potentially signals a more favorable view from regulators toward the gaming industry after months of headwinds. Authorities in the world's second-largest economy have been concerned about gaming addiction among kids under 18 years old, and last year brought in rules that restricted kids' online gaming time to three hours per week. However, the new game has been approved for release, indicating that authorities may be easing up on their restrictions. This is good news for the gaming industry, which has been struggling under the weight of regulatory tightening in recent months. The relaxed attitude toward gaming may help to boost the industry and bring about more innovation in the space.
It's no secret that the Chinese government's crackdown on the video game industry has been bad for business. While under 18s are a small portion of revenue for the likes of Tencent and NetEase, the lack of gaming approvals has had an impact. Last month, Tencent reported it slowest quarterly revenue growth on record for the fourth quarter of 2021. Last week, the company announced plans to shutter its video game streaming platform. The move comes months after regulators blocked a merger between Huya and DouYu, two companies Tencent has a significant stake in, on antitrust grounds. Given the cost of compliance with government regulations, it's not surprising that companies are halting operations or looking for ways to cut costs.
Hits: 10

The upcoming expansion for Cyberpunk 2077, titled Phantom Liberty, has been a topic of much anticipation and discussion among gamers. The expansion promises to add new storylines, missions, characters, skills, weapons, and even a brand-new area to explore [...]

NVIDIA, a leading technology company renowned for its graphics processing units (GPUs), has unveiled a groundbreaking innovation that is set to revolutionize the gaming industry. On May 28, 2023, NVIDIA introduced the NVIDIA Avatar Cloud Engine (ACE) for [...]

Introduction: As technology has advanced over the years, so too have gaming mechanics. From the early days of pixelated graphics and simple controls, gaming has undergone significant transformations that have enhanced gameplay and immersion. In this [...]