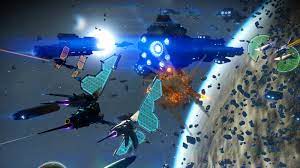 For fans of No Man's Sky, every new update is cause for excitement. The game has come a long way since its release, and each new patch brings something new to the experience. The latest update, which was unveiled by Sean Murray in a recent tweet, includes a pirate emoji. This addition may seem small, but it's just one more example of the team's dedication to making the game as immersive and enjoyable as possible. With each new update, No Man's Sky continues to prove that it is one of the most ambitious and rewarding games available today.
The long-awaited Outlaws update for No Man's Sky has finally arrived, and it's everything space pirates have been dreaming of. For the first time, players will be able to take on bounty contracts and hunt down wanted criminals. There's a whole new black market to explore, and a host of new ships and weapons to acquire. But beware – the life of a space pirate is fraught with danger, and not everyone is going to be happy to see you succeed. With the Outlaws update, No Man's Sky finally lives up to its promise of providing an infinite cosmos to explore – there's no telling what you'll find out there. So strap on your space boots and set sail for the stars.
No Man's Sky has always been a game about exploration, but the upcoming update will let players explore the seedy underworld of the game's universe. The update will add pirating missions, black-market technology, contraband smuggling, and pirate-run spaceports in outlaw star systems. Players will be able to take on these missions alone or team up with other players to form crews of pirates. No Man's Sky has always had a robust online multiplayer component, and the update will make it even easier for players to team up and take on these new challenges. The update will also add new rewards for players who are successful in their pirating endeavors.
As any seasoned outlaw knows, a good ship is essential to a successful life of crime. With the recent addition of solar ships to the game, players now have access to a whole new class of vessel, and they're sure to make a great addition to any outlaw's fleet. Solar ships are faster than their traditional counterparts and come equipped with extendable sails that allow them to harness the power of the sun. They're also very sleek and stylish, so you can be sure to make a grand entrance when you show up to your next heist in one of these bad boys. If you're looking for a little extra firepower, you'll be happy to know that the maximum number of player ships has been increased from six to nine, so that's a good thing!
Pirates have always been a contentious topic, with some people glorifying their lawless nature while others demonize them as criminals. In recent years, however, the popular perception of pirates has shifted somewhat, thanks in part to popular media depictions of them as dashing rogues. No matter what your opinion of them may be, there's no denying that pirates are a fascinating group of people, and if you're interested in learning more about them, then you should definitely check out the new space pirate game. In the game, you'll take on the role of a pirate captain, and you'll have to navigate the perils of space as you try to make a name for yourself. You'll need to be careful though, as naturally others might be there to attack you.
In the latest update to No Man's Sky, combat has been overhauled to provide a more immersive and engaging experience. Handling has been improved for all weapons, and new visual effects have been added to make battles more exciting. In addition, enemy starships now have shields, which players will need to take down before they can deal damage. This adds an extra layer of strategy to combat, as players will need to choose the right weapons and approach each battle carefully. With these improvements, No Man's Sky is sure to please both experienced pilots and newcomers alike.
Welcome to the exciting world of ship-to-ship combat! In this new game mode, you'll be able to battle it out with other players in space, or even within a planet's atmosphere. There are plenty of new strategies to learn and tactics to master, and you'll need to be on your toes at all times if you want to come out victorious.
One of the biggest changes in this game mode is the addition of flight accessibility. In the past, space combat was only accessible to those who were able to pilot their own ships. However, with the new Auto-Follow mode, anyone can join in on the fun. This mode will automatically pilot your ship for you, allowing you to focus on firing your weapons.
Hits: 13

The upcoming expansion for Cyberpunk 2077, titled Phantom Liberty, has been a topic of much anticipation and discussion among gamers. The expansion promises to add new storylines, missions, characters, skills, weapons, and even a brand-new area to explore [...]

NVIDIA, a leading technology company renowned for its graphics processing units (GPUs), has unveiled a groundbreaking innovation that is set to revolutionize the gaming industry. On May 28, 2023, NVIDIA introduced the NVIDIA Avatar Cloud Engine (ACE) for [...]

Introduction: As technology has advanced over the years, so too have gaming mechanics. From the early days of pixelated graphics and simple controls, gaming has undergone significant transformations that have enhanced gameplay and immersion. In this [...]