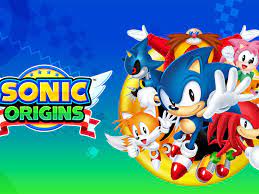 Have you ever dreamed about having all the remasters of Sonic games on one console in the past? I know I have. That is what is happening as SEGA confirmed the release of digital masters for Sonic games.
Sega has finally confirmed the release date for Sonic Origins, a digital collection that will feature high-definition remasters of the first three Sonic The Hedgehog games. The collection will also include Sonic CD, a game that was originally released on the Sega CD platform. Sonic Origins is scheduled to launch on November 5th, 2020.
The release of Sonic Origins will coincide with the 30th anniversary of the original Sonic The Hedgehog game. To celebrate this milestone, Sega is releasing a special anniversary edition of the collection that will include a bonus disc with interviews, behind-the-scenes footage, and more. The anniversary edition will also come with a replica of the original Genesis cartridge, complete with packaging and an exclusive collector's coin.
Whether you're a longtime fan of Sonic The Hedgehog or you're just getting started on your journey through his adventures, Sonic Origins is a must-have collection. Pre-order your copy today!
Sonic Origins offers two different modes for players to enjoy. Classic Mode allows players to experience the multi-game collection of legacy Sonic games in their retro form with classic challenges. Anniversary Mode provides a full screen display and offers players an infinite number of lives to keep the fun going without any game overs. Both modes are great for players who want to enjoy the Sonic franchise in different ways. Whether you want a challenge or just to relax and have fun, Sonic Origins has you covered.
Sonic Origins will also feature new challenges and in-game missions which earns players medallions to unlock new content from the vault. By completing special stages, players can also earn more medallions to try out different content from the game. Themed events will also appear periodically which will offer a chance to earn rare items. New challenges and missions await players who are looking to get the most out of their game experience.
This is actually some wonderful news and can't wait for the time when the games come out for us to enjoy them.
Hits: 19

NVIDIA, a leading technology company renowned for its graphics processing units (GPUs), has unveiled a groundbreaking innovation that is set to revolutionize the gaming industry. On May 28, 2023, NVIDIA introduced the NVIDIA Avatar Cloud Engine (ACE) for [...]

Introduction: As technology has advanced over the years, so too have gaming mechanics. From the early days of pixelated graphics and simple controls, gaming has undergone significant transformations that have enhanced gameplay and immersion. In this [...]

As gaming enthusiasts, we invest a significant amount of time and money into our consoles, making it essential to take proper care of these prized possessions. While we often focus on keeping our games up to date and ensuring our controllers are in top [...]