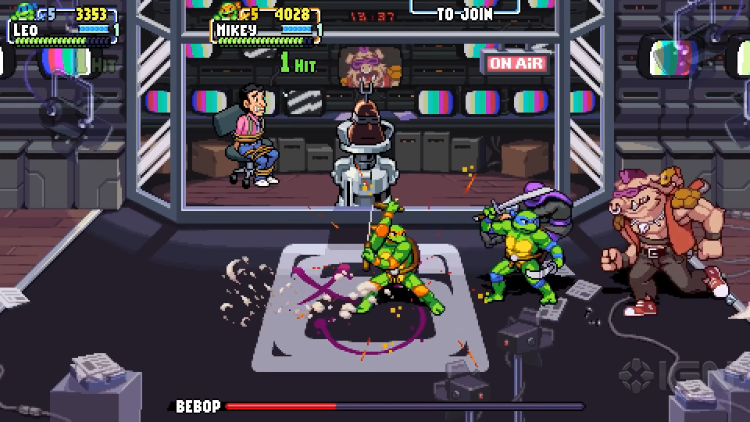 From the minute the gameplay started, I was transported back to my childhood days spent playing video games on my SEGA Genesis. The graphics are colorful and vibrant, and the characters and environments are all deeply reminiscent of the popular '90s cartoon. The gameplay itself is also incredibly faithful to the original TMNT games, with a side-scrolling perspective and a focus on fast-paced action. Overall, I was extremely impressed with Shredders' Revenge. It's a charming throwback to a simpler time, and it's clear that a lot of care and attention has gone into its development. I can't wait to play more.
As any fan of the Teenage Mutant Ninja Turtles knows, the heroes in a half-shell are no strangers to side-scrolling beat-'em-up action games. In fact, some of the franchise's most iconic moments come from these types of games. So it should come as no surprise that fans are excited for Teenage Mutant Ninja Turtles: Shredder's Revenge, an upcoming game that hearkens back to the franchise's roots with its retro graphics and gameplay. Shredder's Revenge will be released this Summer for PC, PS4, PS5, Xbox One, Xbox Series X|S, and Nintendo Switch.
Fortunately, gamers don't have to wait long to get their hands on the game, as a playthrough of the first two stages is already available online. The footage gives fans a brief taste of what they can expect from the full game, including plenty of turtle-on-footp Clan action and some familiar faces from the TMNT universe. While the graphics may be dated by today's standards, there's no denying the charm of this throwback title. Here's hoping that Teenage Mutant Ninja Turtles: Shredder's Revenge lives up to the nostalgia it so clearly evokes.
There's good news for fans of the Teenage Mutant Ninja Turtles: Shredder's Revenge, an all-new 2D sidescrolling beat 'em up game, is set to be released this Summer. The game is being developed by Tribute Games, the studio behind the successful Scott Pilgrim vs. The World: The Game, and published by Dotemu. Even better news for fans of the '80s animated series that started it all is that the four original voice actors are returning to voice the Turtles in Shredder's Revenge. PLAYING AS THE TURTLES In Shredder's Revenge, players can choose to play as Leonardo, Raphael, Michelangelo, or Donatello, each with their own unique move set and abilities. The game will feature local co-op multiplayer for up to four players, as well as online co-op. Players will be able to team up and take on waves of enemies in fights that will span across various iconic locations from the TMNT universe. They'll also be able to upgrade their characters' skills and equip them with new gear as they progress through the game. battles against bosses, including Bebop, Rocksteady, Baxter Stockman etc.
There's something about the 90's that just feels special. Maybe it's the vibrant colors, the earnestness, or the sense of possibility. Whatever it is, I just can't get enough of it! And this game is the perfect embodiment of all those things. The sprites are so lovingly crafted and the animation is so fluid. The sound design and music are incredible, and the voice acting is top-notch. I feel like I've been transported back to a 90's arcade! This game is a truly a love letter to the 90's, and I can't recommend it enough.
Hits: 1359

The upcoming expansion for Cyberpunk 2077, titled Phantom Liberty, has been a topic of much anticipation and discussion among gamers. The expansion promises to add new storylines, missions, characters, skills, weapons, and even a brand-new area to explore [...]

NVIDIA, a leading technology company renowned for its graphics processing units (GPUs), has unveiled a groundbreaking innovation that is set to revolutionize the gaming industry. On May 28, 2023, NVIDIA introduced the NVIDIA Avatar Cloud Engine (ACE) for [...]

Introduction: As technology has advanced over the years, so too have gaming mechanics. From the early days of pixelated graphics and simple controls, gaming has undergone significant transformations that have enhanced gameplay and immersion. In this [...]