With the latest announcement from memory manufacturer G.Skill, it's clear that we are on the verge of a major shift in computing technology. The company has just unveiled the world's first DDR5 memory sticks, offering blazing-fast speeds and unprecedented performance. These cutting-edge memory modules will be available in two different frequencies – DDR5-5600 and DDR5-5200 – both with an incredibly low CAS latency of 28.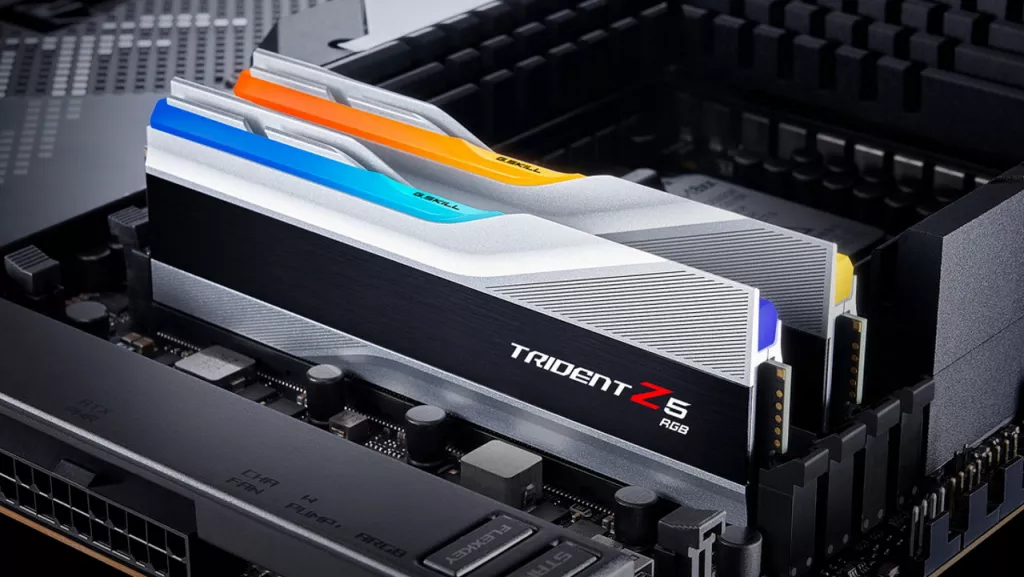 optimized for performance and reliability, these new DDR5 memory kits are perfect for anyone looking to take their system to the next level. Whether you're a power user or a content creator, these high-performance modules will give your system the boost it needs to truly shine. So if you're ready to upgrade your rig and experience firsthand how blazing fast DDR5 memory can be, then be sure to check out G.Skill's Trident Z5 RGB, Trident Z5, and Ripjaws S5 lines today! You won't be disappointed.
There's been a lot of talk lately about the benefits of high-frequency RAM, but one area that's often overlooked is latency. Low latencies are essential for achieving high levels of performance, and as the latencies of DDR4 kits continue to drop, we're starting to see some real benefits in terms of responsiveness and gaming performance. Recently, we've seen some kits with latencies as low as CL16, and while that's still not quite as low as we'd like to see, it's a significant improvement over previous generations. With the continued development of low-latency RAM, we can expect to see even more improvements in performance in the future.
G.Skill's announcement is great news for anyone who has been waiting for DDR5 to become more widely available. As they say, we're finally getting to the point where there is a real benefit to moving to DDR5 outside of a handful of synthetic benchmarks and specific high-memory usage cases. With any luck, other manufacturers will soon follow G.Skill's lead and release their own DDR5 products. This would give consumers more choices and help to drive down prices. In turn, this would make DDR5 more accessible to a wider range of users. Considering all of the potential benefits, let's hope that this is the start of a trend.
When it comes to modern computer hardware, one of the most important performance metrics is memory speed. At its core, the speed of your RAM governs how quickly data can be accessed and processed by your computer. And for many applications, faster memory can have a substantial impact on overall performance. But what does this mean in real-world terms? To throw a brief bit of maths at things, the real-world CAS latency is measured as (CAS Latency x 2,000)/Memory Speed. In the case of Corsair's latest DDR5-5600 CL28 kit, this equates to a CAS latency of 10ns – that's the same as DDR4-3200 with a CAS latency of 16. Ultimately, this means that whether you're working with high-bandwidth data or lower-latency memory operations in your application, this new RAM will help you get the job done more quickly and efficiently. So if you're looking to boost your computer's performance, be sure to check out Corsair's latest DDR5 memory kit today!
With the rise in popularity of gaming, the need for advanced and fast memory has also grown. DDR5, which provides higher overall frequencies and faster speeds than its predecessor, is well-suited to meet these needs. This isn't just good news for professional gamers, however – at this point in time, even casual gamers can benefit from DDR5. While the difference it makes may only be a few frames per second at most, those extra few frames can make all the difference when it comes to competitive gameplay. Ultimately, then, for those who love to game, DDR5 is an exciting development that helps make gaming even more fun and engaging than before.
Intel is once again leading the charge when it comes to innovative new technology, as their 12th Gen Alder Lake processors already support the newer and faster DDR5 memory standard. In contrast, rumors are swirling that AMD's upcoming Zen 4 processor will only support DDR5, which could give Intel an edge in the market.
Despite this technical advantage, however, analysts predict that it will be a while before we see much of a change in pricing for these technologies. After all, new memory standards often come with high initial costs and take time to catch on among consumers. Nevertheless, as demand grows and prices drop over time, there is no doubt that Intel will maintain its position as the leader in cutting-edge tech for computers and other devices. And with many exciting new applications for these powerful processors on the horizon, both consumers and businesses alike can look forward to many exciting developments in years to come.
Although pricing information isn't available yet, you can expect G.Skill to command a premium for these 'enthusiast' memory kits. DDR5 standard memory generally costs twice as much as DDR4memory, so these are likely to be expensive. However, the benefits of DDR5 memory may be worth the cost for some users. DDR5 offers significant improvements in speed and capacity over DDR4, making it ideal for gamers and other power users who need the best performance from their computers. If you're looking for the fastest and most powerful memory available, G.Skill's new kits are worth considering, even at a premium price.
Hits: 14

There are a few lightweight operating systems that could work well on your Acer Aspire Switch 10 tablet/laptop hybrid. Here are some suggestions: Now, let's discuss the benefits of switching to a lighter OS. By switching to a lighter OS, you can [...]

Yay! I'm so excited for Forspoken, one of the first big AAA open-world games of 2023! Developed by Luminous Productions, it's going to take us on an epic adventure to the magical world of Athia where we get to explore and defeat the corrupting [...]

A user on reddit posted about his friend being banned from GTA Online after having completed 3,331 hours in the game. That is a lot of time. That's more than 138 days on playing GTA Online in real time. Now some of these bans looks really stupid [...]