EVE Online is a spacefaring MMO with a player-driven economy, complex game mechanics, and fascinating stories that emerge from the dedication of its players. The game is set in a continuous dedicated server world, and tasks players with building, managing, and trading space fleets. While the game is notoriously complex, this only adds to its appeal for many players. EVE Online is often praised for its player-driven economy, which creates an ever-changing landscape that keeps the game feeling fresh. In addition, the game's complex mechanics provide a deep level of strategic depth. And finally, the stories that emerge from the dedication of the game's players are truly legendary. If you're looking for an immersive and challenging gaming experience, EVE Online is definitely worth checking out.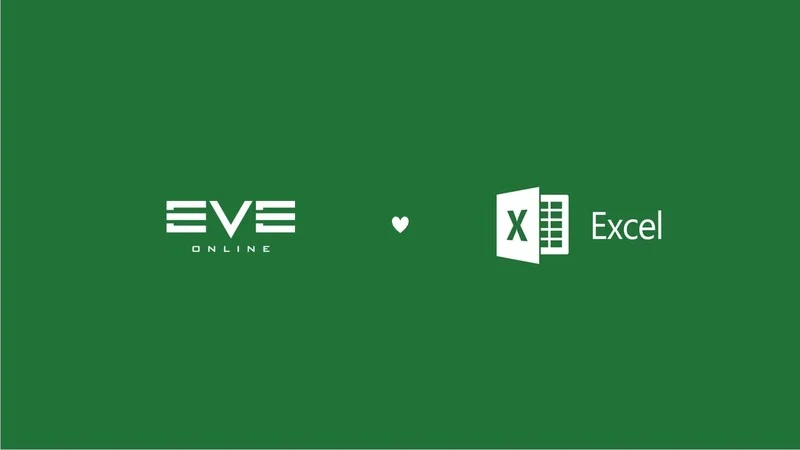 For years, the EVE Online community has joked about the game's complex spreadsheets, using them as a memetic stand-in for the game's notoriously steep learning curve. This week, at the EVE Online Fanfest, developer CCP revealed that they will be taking the joke one step further by partnering with Microsoft to bring an actual spreadsheet into the game. The new spreadsheet tool will allow players to keep track of their in-game assets and achievements, and can even be used to generate custom graphs and charts. CCP says that the partnership is a natural fit, given Microsoft's history of supporting gaming communities. The new spreadsheet tool will be available to all EVE Online players later this year.
Microsoft Excel and CCP Games have announced a new partnership that will allow players of CCP's popular spacefaring game, EVE Online, to export in-game data directly into Microsoft Office. Exactly how this will all function remains to be seen, but CCP says it aims to provide more information on these features later in the year. This new partnership is sure to be a hit with EVE Online's large and dedicated player base, many of whom are already avid users of Microsoft Excel. With this new feature, players will be able to track their progress and achievements in EVE Online with even greater ease and accuracy. We can't wait to see how this new partnership between Microsoft and CCP unfolds!
CCP Games has big plans for EVE Online in the coming year. The developers have released a new roadmap detailing all the content updates players can expect in 2020. There are a lot of exciting changes coming, including new events, story systems, and improvements to existing gameplay mechanics. One of the most anticipated additions is the focus on EVE's NPC empires. CCP Games is planning to release a trailer showcasing the Caldari, one of EVE's major factions. This should help to improve player immersion and make the game world feel more alive. Overall, it sounds like EVE Online is going to be even better in 2020.
As I noted earlier, EVE is notorious for being inaccessible to newcomers or casual players. A new player experience dubbed the AIR Career Program will help acclimate new players across four dynamic roles; Explorer, Industrialist, Enforcer, or Soldier of Fortune. CCP is also intent on revamping and enhancing the visual engine to prepare the game for its third decade in operation, with improvements to the HUD, better particle FX, and much more. The AIR Career Program is a suite of challenges and tutorials that gradually introduce new concepts to players as they complete each section. The goal is to give players a sense of direction and purpose as they learn the ropes of EVE Online. The first few hours of EVE can be overwhelming for even the most experienced gamer, so CCP is hoping that the AIR Career Program will help new players stick around long enough to get hooked on EVE's unique blend of strategy, politics, and intrigue. Thanks to the AIR Career Program, CCP is confident that EVE Online will be able to maintain its position as one of the most complex and rewarding MMOs on the market for years to come.
Microsoft's Excel has been a staple of business and personal productivity for over three decades now. The spreadsheet software has come a long way from its humble beginnings, and it now boasts a wide range of features that make it indispensable for many users. However, Excel also has another unexpected use case: as a tool for parsing data in video games. Players of complex games such as Elite Dangerous or World of Warcraft often find themselves turning to Excel to help them make sense of the vast amount of data that these games generate. And it makes perfect sense—after all, what better tool to help you sift through mountains of data than a powerful spreadsheet program? It's an unexpected but perfectly logical use case for Excel, and I suspect we'll see more and more partnerships between the two in the years to come.
Hits: 12

Epic Games has surprised everyone with the announcement of a Fall Out Boy concert in Fortnite. This is a unique opportunity for all the fans of the band to enjoy their music live in the game. Here's everything you need to know about the event, [...]

Command & Conquer: Tiberian Sun is a classic real-time strategy game released in 1999. Set in a futuristic world, players can choose to play as either the Global Defense Initiative (GDI) or the Brotherhood of Nod, two opposing factions vying for [...]

In recent years, the gaming industry has experienced tremendous growth and has become one of the most popular forms of entertainment worldwide. From casual gamers to professional esports players, gaming has come a long way since its inception. The rise of [...]