One reason people do online gaming is to relax and have fun. It's a great way to take a break from work or school and just enjoy yourself. Gaming can also be a social activity, where you can chat with friends and family members while you play. There are many different types of games to choose from, including console games, PC games, and free internet games. Plus, there's something for everyone, whether you're into puzzles, strategy, or action. So if you're looking for a way to unwind and have some fun, online gaming is a great option.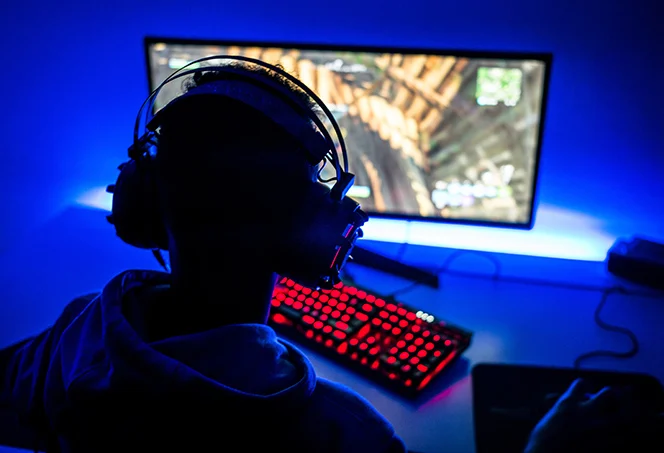 It's no secret that video games are more popular than ever. A recent study found that 65% of Americans play video games, and the average gamer spends nearly eight hours a week playing them. For many people, video games are a fun and easy way to relax after a long day. But some experts worry that too much gaming can lead to social isolation and other problems.
proponents of video gaming argue that it can actually improve social skills. They point to the fact that many games require players to work together to achieve a common goal. In addition, online gaming has created a new way for people to socialize and connect with others who share their interests. And with the rise of free internet games, there are now more opportunities than ever to game without breaking the bank.
Console and pc games continue to be the most popular type of video game, but there is an increasing number of people playing mobile games as well. Whether you're a casual player or a hardcore gamer, there's no doubt that video games are here to stay. And for many people, that's not necessarily a bad thing.
Video games provide a great opportunity for people to socialize and connect with others, but it's important to remember that they are not the same as real life. People often act differently online, and may not be the same people in real life. This can lead to misunderstandings and disappointed expectations. It's important to be aware of this difference and to approach online interactions with caution. Games can be a great way to meet new people and have fun, but it's important to remember that not everyone is always who they seem.
Making money while playing games has become popular too with many social media websites paying people for their gaming videos. The game industry is a billion-dollar industry with game developers, game publishers, game journalists, and game enthusiasts all over the world. Games are designed to be entertaining and challenging, but they can also be used to make money. There are many ways to make money from games, including game development, game publishing, game journalism, and playing games. Game developers create new games and sell them to game publishers. Game publishers then sell the games to gamers. Game journalists write about games and often get paid to do so. And gamers can make money by playing free internet games, console games, or pc games. There are many ways to make money from games, and the popularity of making money from playing games is only increasing. So if you're looking for a way to make some extra money, consider making money from playing games. It's a fun and easy way to earn some extra cash.
Games provide people with a sense of achievement that they might be missing in real life. In games, people can overcome various challenges and obstacles to complete tasks or goals. This sense of accomplishment can be addictive and lead to people spending more time playing games. However, it can also provide a much-needed boost to someone's self-esteem. Games can be played on many different platforms, including computers, phones, and consoles. Some games are even available for free on the internet. With so many options available, there is sure to be a game out there for everyone. Whether you're looking for a casual game to play during your free time or a more challenging game to keep you occupied for hours, there is sure to be a game that you will enjoy.
I started my gaming YouTube channel, JauntyM, because I wanted to share my love of gaming with the world. I also saw it as a way to make some extra money on the side. I never expected it to take off the way it did. But within a few months, I had amassed a large and loyal following. My channel is now one of the most popular gaming channels on YouTube. And I'm able to support myself and my family through my earnings from the channel.
I game because I love it. It's something that I'm passionate about. And I love being able to share that passion with others through my videos. When people watch my videos, they can see how much fun I'm having. And that's what gaming is all about for me – having fun. Whether I'm playing free internet games or console games, I'm always looking for ways to have a good time. And if I can make some money on the side, then that's just icing on the cake.
Hits: 5

NVIDIA, a leading technology company renowned for its graphics processing units (GPUs), has unveiled a groundbreaking innovation that is set to revolutionize the gaming industry. On May 28, 2023, NVIDIA introduced the NVIDIA Avatar Cloud Engine (ACE) for [...]

Introduction: As technology has advanced over the years, so too have gaming mechanics. From the early days of pixelated graphics and simple controls, gaming has undergone significant transformations that have enhanced gameplay and immersion. In this [...]

As gaming enthusiasts, we invest a significant amount of time and money into our consoles, making it essential to take proper care of these prized possessions. While we often focus on keeping our games up to date and ensuring our controllers are in top [...]