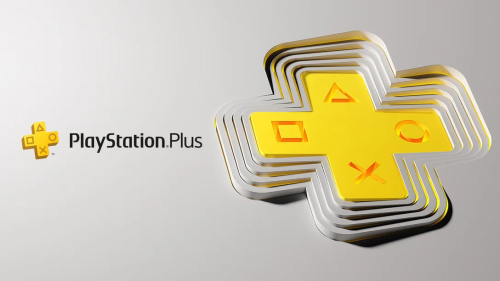 PlayStation Plus is a new way for gamers to get even more great games into their hands. By becoming a member, gamers will have access to free monthly games, as well as early access to upcoming titles and exclusive discounts. In addition, members will be able to play online with friends and compete in online leaderboards. We are confident that PlayStation Plus will offer an incredible value for gamers, and we can't wait to see how they take advantage of all the great benefits that come with being a member. Thanks for helping us make PlayStation Plus a reality.
PlayStation Plus is a subscription service that provides access to a library of PlayStation 4, PlayStation 3, and PlayStation Vita games. It was launched in 2010, and initially offered a free game every month for subscribers. In 2013, Sony began offering two free games per month, and later increased the number of free games to six per month. The service now offers a mix of free and discounted games, as well as other benefits such as early access to game demos and discounts on digital purchases. PlayStation Now is a streaming service that offers access to a library of PlayStation 2, PlayStation 3, and PlayStation 4 games. It was launched in 2014, and initially offered a rental-based model for individual games. In 2015, Sony shifted to a subscription-based model, which allows subscribers to stream any game in the library. The service now offers a mix of individual rentals and subscription plans. The new PlayStation Plus membership service combines the two services into one package, with three membership plans: Essential, Extra, and Premium (Deluxe in non-streaming markets). The Essential plan provides access to the free games offered by PlayStation Plus, as well as discounts on digital purchases. The Extra plan adds access to the PlayStation Now library of streaming games, as well as additional discounts
Where is the new PlayStation Plus rolling out, and when?
Asia (excluding Japan), launches starting today
Japan, targeting June 2, 2022
North and South America, targeting June 13, 2022
Australia, New Zealand and Europe, targeting June 23, 2022
What are key benefits for each plan?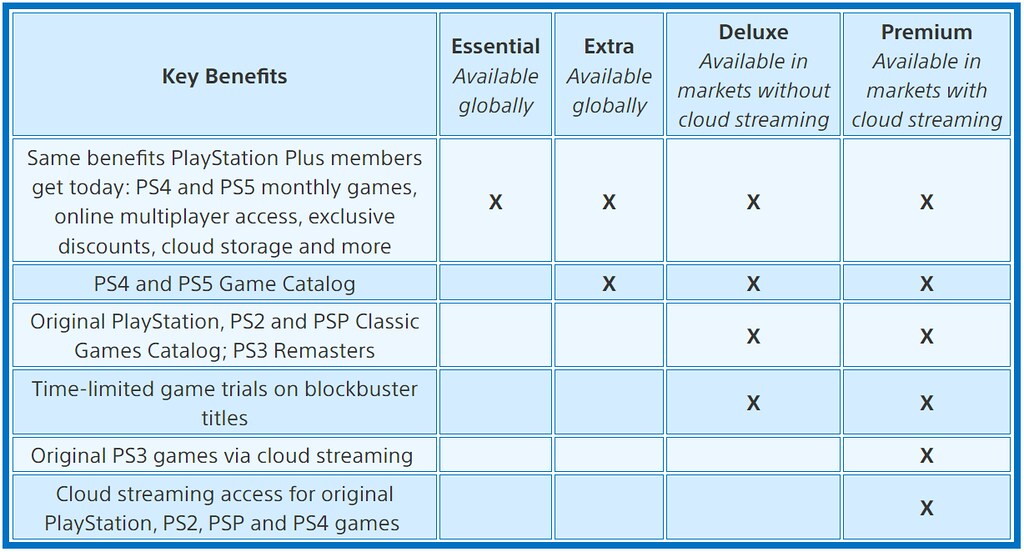 Which markets will have the cloud streaming option via PlayStation Plus Premium?
Austria, Belgium, Bulgaria, Canada, Croatia, Czech Republic, Denmark, Finland, France, Germany, Greece, Hungary, Ireland, Italy, Japan, Luxembourg, Malta, Netherlands, Norway, Poland, Portugal, Republic of Cyprus, Romania, Slovakia, Slovenia, Spain, Sweden, Switzerland, United Kingdom, and United States.
PlayStation Plus is set to launch with an impressive selection of titles across three membership plans. The curated content will include blockbuster hits such as Demon's Souls, Marvel's Spider-Man: Miles Morales, NBA 2K 22, Red Dead Redemption 2, Returnal, and more. Here is a sample list we announced on PlayStation Blog. Titles may vary by local market. With so many great options to choose from, PlayStation Plus is sure to have something for everyone. Whether you're a fan of action-packed games or looking for something a little more subdued, there's sure to be a title that catches your eye. So why not give PlayStation Plus a try? You might just be surprised at what you find.
Current PlayStation Plus Members
PlayStation Plus members will soon be able to enjoy all the same benefits with a new name: PlayStation Plus Essential. Current members will be transitioned automatically and there are no changes to the existing benefits, such as PS4 and PS5 monthly games, exclusive discounts, cloud storage for saved games, online multiplayer access, and more. PlayStation Plus Essential will continue to provide the best value for gamers who want to get the most out of their PlayStation experience. Thanks for being a part of PlayStation Plus!
Can we expect this service to be introduced in Pakistan soon?
While the PlayStation Plus service has been available in some Asian markets for a while now, there is no telling if or when it will come to Pakistan. PlayStation Plus is a subscription service that gives members access to exclusive content, such as discounts on games, early access to beta testing, and more. It's a great way for gamers to get the most out of their console, and it's something that many Pakistani gamers have been clamoring for. However, with no information about when or if the service will be coming to Pakistan, gamers will just have to keep waiting. Hopefully, Sony will eventually bring PlayStation Plus to Pakistan so that gamers can enjoy all of its benefits. Until then, gamers can only keep hoping and dreaming.
For further information on this visit, https://blog.playstation.com/2022/05/23/20220523-psplus-2/
Hits: 16

NVIDIA, a leading technology company renowned for its graphics processing units (GPUs), has unveiled a groundbreaking innovation that is set to revolutionize the gaming industry. On May 28, 2023, NVIDIA introduced the NVIDIA Avatar Cloud Engine (ACE) for [...]

Introduction: As technology has advanced over the years, so too have gaming mechanics. From the early days of pixelated graphics and simple controls, gaming has undergone significant transformations that have enhanced gameplay and immersion. In this [...]

As gaming enthusiasts, we invest a significant amount of time and money into our consoles, making it essential to take proper care of these prized possessions. While we often focus on keeping our games up to date and ensuring our controllers are in top [...]