Cuphead update 1.03 is now live on all platforms in preparation for the game's "The Delicious Last Course" DLC, releasing tomorrow, June 30. The official Cuphead June 29 patch notes are as follows: NEW FEATURES – Added difficulty settings for The Delicious Last Course DLC: Insane and Normal. – Addedskip sequenceoption for cutscenes (pressing Skip button). BUG FIXES – Fixed an issue where returning to title screen after completing the game would cause black screen. – Fixed an issue where player could get stuck in floor during Devil process. – Fixed an issue where Certain enemies could get stuck in wall and be unable to move or attack. As always, stay tuned for more updates on Cuphead!
Cuphead fans rejoice! The expansion, Cuphead: The Delicious Last Course is not just a fancy flan or fruit tart to top off your meal. This new adventure consists primarily of only six mainline boss fights but they're challenging and visually jaw-dropping ones that each stand tall as some the most fun I've had in any video game yet–and it doesn't hurt either how many secrets there are with worthwhile rewards waiting for you along this journey throughMs Chalice's story arc which comes complete with skills designed specifically so players can take some edge off intense difficulty without making things feel too easy anymore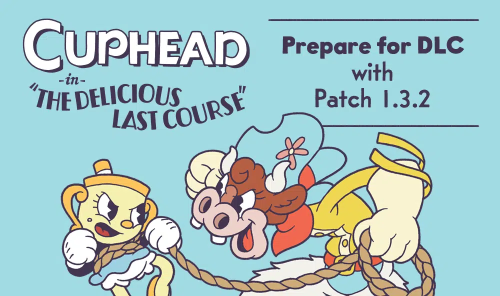 Cuphead is back with more of the same difficult but rewarding action that made the original game so popular. In Cuphead, players take on the role of Cuphead or Mugman, tasked with defeating a series of bosses in order to repay their debt to the devil. The game's unique hand-drawn art style and retro soundtrack are both delightful and challenging, and players will need every bit of skill and patience they can muster to defeat the game's many bosses. Thankfully, there are plenty of new features and abilities to help players out, including an upgrade system that allows players to customize their characters to better suit their playstyle. With its challenging but fair gameplay and charming art style, Cuphead is sure to please fans of the original game while also winning over new players.
Cuphead is back and better than ever with the addition of Ms. Chalice as a brand new playable character! With a modified moveset and new abilities, Ms. Chalice is fully playable through the DLC and the original Cuphead adventure. Traverse a brand new Inkwell Isle and wallop the most wacky and monstrous bosses Cuphead has faced yet! Find new weapons and charms to aid you in overcoming brand new challenges and setting new records on old bosses! Help Chef Saltbaker on a brand new adventure to uncover the mystery of Legendary Chalice's secret quest!Ms. Chalice is a great addition to the game and her ability to traverse Cuphead's world will no doubt help players in theirbid to discover all of the game's hidden secrets. We can't wait to see what else this exciting DLC has in store for us!
Hits: 0

The Resident Evil series has been a fan favorite for over two decades, with its mixture of horror and action gameplay, iconic characters, and engaging storylines. With so many games in the series, it's easy to overlook some of the lesser-known [...]

Pakistan's digital economy is booming, but the lack of regulation in the industry has led to a rise in scams, frauds, and apparent mismanagement. The pandemic has led to more people seeking ways to make money, and traditional sellers have moved online, [...]

NCSoft has presented a new ambitious project called Project M at the State of Unreal 2023 event. This new game is a simulated reality project that is set to take the gaming world by storm. With stunning graphics and an innovative gameplay system, Project [...]