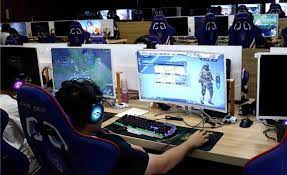 As the Lunar New Year holidays in China approach, children in the country have something new to look forward to: one extra hour of online gaming each day. For years, Chinese authorities have been working to control how much time children spend playing games online in order to combat "internet addiction." Despite claiming success in this endeavor, they are not taking any chances.
In 2019, authorities restricted minors to playing 90 minutes a day on weekdays and banned them from playing between 10 p.m. and 8 a.m. In 2021, the restrictions became even harsher. Minors are now allowed to play online games for only an hour a day and only on Fridays, weekends and public holidays. Game approvals were also halted for eight months.
The upcoming Lunar New Year holiday, which is China's biggest festival, will give children four extra days to play online games. Many parents have praised the restrictions, even as their children have thrown tantrums. Social media and games companies have also set up or strengthened "youth mode" settings on their apps to protect minors. These settings include features that limit use, control payments and display age-appropriate content. For some popular games, real-name registration and even facial recognition gateways have been implemented to prevent workarounds.
In November 2021, a government-affiliated industry group called the Game Industry Group Committee issued a report declaring that the gaming addiction problem among minors had been "basically resolved," despite the three-hour weekly limit for Friday, Saturday and Sunday still being in place.
Hits: 0

NVIDIA, a leading technology company renowned for its graphics processing units (GPUs), has unveiled a groundbreaking innovation that is set to revolutionize the gaming industry. On May 28, 2023, NVIDIA introduced the NVIDIA Avatar Cloud Engine (ACE) for [...]

Introduction: As technology has advanced over the years, so too have gaming mechanics. From the early days of pixelated graphics and simple controls, gaming has undergone significant transformations that have enhanced gameplay and immersion. In this [...]

As gaming enthusiasts, we invest a significant amount of time and money into our consoles, making it essential to take proper care of these prized possessions. While we often focus on keeping our games up to date and ensuring our controllers are in top [...]