DNA replication is a vital process in all living organisms that ensures the genetic information is passed down accurately to the next generation. However, bacteria also have the ability to transfer genetic information horizontally to other bacteria through a process called horizontal gene transfer. One such example of horizontal gene transfer is the transfer of antibiotic resistance plasmids, which can cause serious health problems, particularly in hospitals where antibiotics are widely used and vulnerable patients are present.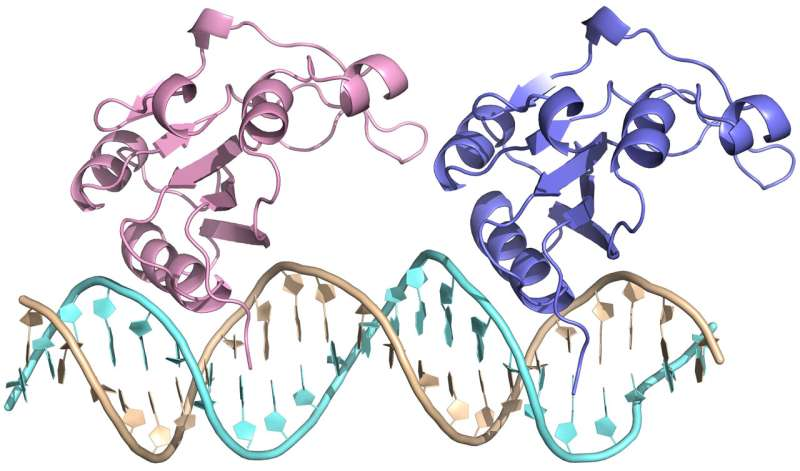 A recent study conducted by scientists at the Institute for Research in Biomedicine (IRB Barcelona), the Institute of Molecular Biology of Barcelona (IBMB-CSIC), and the Center for Biological Research (CIB-CSIC) has shed light on the mechanism behind this transfer of antibiotic resistance. The study focuses on plasmid pMV158, which is found in the Streptococcus genus and determines resistance to tetracycline. The study found a hexameric structure of the RepB protein and how it binds to DNA, which points to a high degree of flexibility that allows the protein to carry out a dual function.
Dr. Miquel Coll, the head of the Structural Biology of Protein & Nucleic Acid Complexes and Molecular Machines lab at IRB Barcelona and a professor at CSIC, emphasizes the importance of devoting resources to the development of new antibiotics and understanding how antibiotic resistance occurs and spreads. He points out that the massive use of antibiotics, both in humans and livestock, has led to an increase in antibiotic resistance and the spread of resistant bacteria, making nosocomial infections, which affect 7% of patients, difficult to treat.
The first authors of the study are Dr. Cristina Machón from IRB Barcelona and Dr. José A Ruiz-Masó from CIB-CSIC. The project was conducted with the help of the Automated Crystallography Platform at the IBMB and IRB Barcelona, and the X-ray data was gathered at the Alba and ESRF synchrotrons. The paper has been published in the journal Nucleic Acids Research.
In conclusion, the study provides valuable insights into the mechanism behind the transfer of antibiotic resistance in bacteria and highlights the importance of developing new antibiotics to address this growing medical concern.
Hits: 0

Scientists have made a remarkable discovery in the Siberian permafrost – the revival of a virus that was frozen for 48,500 years. The discovery has raised concerns about the risks of ancient viruses being unleashed as a result of the warming [...]

The quest to study and understand the phenomenon of unidentified flying objects (UFOs) has been a long and winding one. For decades, scientists have struggled to make headway in this field, with few tangible results to show for their efforts. However, [...]

Waqar Zaka many times is controversial but many times he is bluntly true as well. In his most latest tweet he addressed the government saying that they should work on a new payment gateway for Pakistan just as quickly as they worked on changing the rules [...]