The 90s were a decade of iconic video games that have since become cultural touchstones. Two of the most memorable titles from this era were Myst and Doom, both of which made a significant impact on the gaming world. Now, indie developers Peter Henningsen and Steven Noss have combined these two classics to create a hilarious first-person shooter experience called Myst FPS.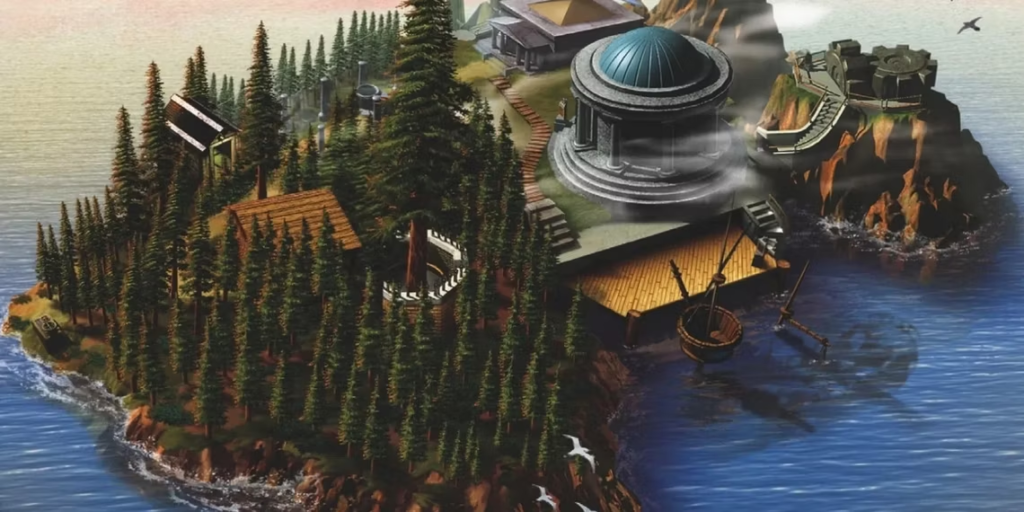 Myst was one of the most innovative titles of the 90s, earning the distinction of being the best-selling PC game of the decade. With its captivating story and challenging puzzles, it captured the hearts and minds of gamers everywhere. The game's sequel, Riven, doubled down on the franchise's lore and atmosphere, solidifying its status as one of the best puzzle games of all time.
Myst FPS takes place on the same island as the original game and features similar movements, allowing players to change the screen using the WASD keys. However, instead of puzzles and quiet contemplation, the game introduces first-person shooter mechanics that task players with taking down 100 bat-like demons. With only five lives and one gun, players must move quickly to eliminate the monsters before they themselves are killed.
While Myst FPS is not a serious attempt at recreating the classic Doom experience, it still manages to provide a fun and fast-paced experience that is sure to entertain. The game's jokes are clever and revolve mostly around the difficulty of the original Myst game unless a guide was used. For example, after killing a few demons, the game yells "Cerebral!" at the player and offers a link to Mensa International for those who manage to defeat all 100 enemies.
While the Myst franchise has faded from the limelight in recent years, Doom has maintained a strong presence in the gaming world, largely due to the modding community's efforts. Recently, Doom modders created a unique concept that involved fighting demons with love in a mod called Lover's Quarrel. Myst FPS now adds to this legacy by offering an entertaining take on the classic game.
Myst FPS is available for PC and can be downloaded for free from itch.io. While it may not be the most challenging game out there, it provides a fun and unique experience that is sure to delight fans of both Myst and Doom.
Hits: 1
The Last Dose is the latest update of the Grand Theft Auto Online game, and it appears to have disappointed many players with its content. However, the Virtue car as a gift is something that players like u/No_Competition3637 believe is a sweet reward. The [...]

The discussion on the r/GodofWar subreddit regarding the invulnerability of the rope in the game brings to light an interesting psychological concept called suspension of disbelief. Suspension of disbelief is the willingness of a person to temporarily put [...]

Remember the days when Grand Theft Auto Online (GTAO) had ground fireworks? It has been a few years since players could enjoy them, but some users are reminiscing about the fun feature and wishing for their return. Reddit user Zeustah- posted on the [...]