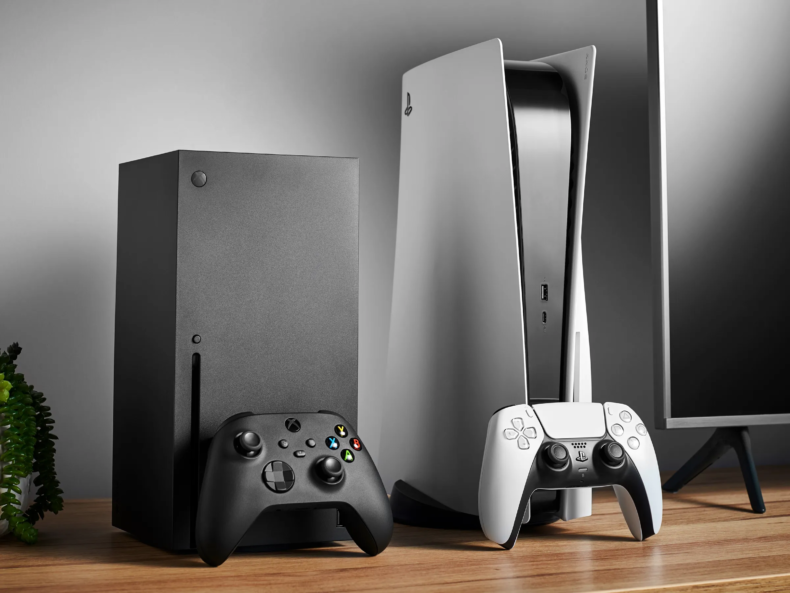 The Xbox Series X and PS5 are both great games consoles. They both offer exceptional performance, stunning graphics, and a range of features that make them stand out from the crowd. However, there are some key differences that you should consider before making your purchase. The Xbox Series X is more powerful than the PS5, and it supports 4K gaming at 60fps. It also has a larger hard drive, meaning you can store more games. The PS5, on the other hand, is slightly cheaper and comes with a built-in Blu-ray player. It also has a range of exclusive games that you won't find on the Xbox Series X. Ultimately, it comes down to personal preference. If you're looking for the most powerful console on the market, the Xbox Series X is the one for you. If you're looking for great value for money, the PS5 is the better option. Whichever console you choose, you're sure to enjoy hours of gaming fun.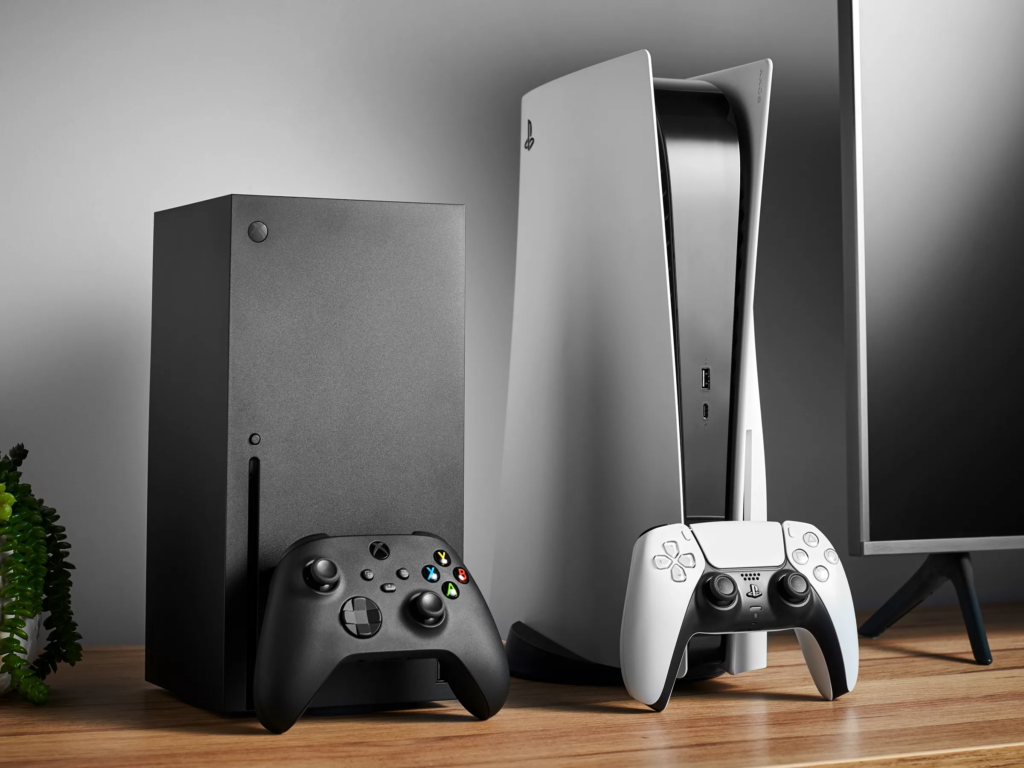 PS5 vs. Xbox Series X: Specs
| | | |
| --- | --- | --- |
| | PS5 | Xbox Series X |
| Price | $500 (PS5); $400 (PS5 Digital Edition) | $500 |
| Key Exclusives | Spider-Man: Miles Morales, Horizon II: Forbidden West, Gran Turismo 7 | Halo Infinite, Senua's Saga: Hellblade 2, Forza Motorsport 8, State of Decay 3 |
| Backwards Compatibility | Almost all PS4 games, including optimized PS4 Pro titles | All Xbox One games / Select Xbox 360 and original Xbox games |
| CPU | 8-core 3.5 GHz AMD Zen 2 | 8-core, 3.8 GHz AMD Zen 2 |
| GPU | 10.3 teraflop AMD RDNA 2 | 12.0 teraflop AMD RDNA 2 |
| RAM | 16 GB GDDR6 | 16 GB GDDR6 |
| Storage | 825 GB custom SSD | 1 TB custom NVMe SSD |
| Resolution | Up to 8K | Up to 8K |
| Frame Rate | Up to 120 fps | Up to 120 fps |
| Optical Disc Drive | 4K UHD Blu-ray (Standard PS5 only) | 4K UHD Blu-ray |
Source: https://www.tomsguide.com/news/ps5-vs-xbox-series-x
When it comes to performance, the Xbox Series X has more powerful hardware than the Xbox One. This includes a faster GPU and SSD. The higher specs allow the Xbox Series X to run games at a higher framerate and resolution. The extra power also allows for better loading times and more realistic graphics. In short, the Xbox Series X is the most powerful console on the market. If you're looking for the best gaming experience, this is the console for you.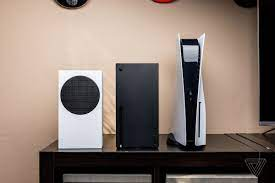 When it comes to comparing the PS5 Digital Edition and the Xbox Series S, there are a few key differences that set these consoles apart. While both are fully functional gaming systems in their own right, with high-quality graphics and advanced features, they also each have a less expensive variant that may appeal to different types of players. For example, the PS5 Digital Edition is ideal for digital diehards who prefer buying and downloading games directly from platforms such as the Playstation store. It offers access to a wide range of top-notch titles without requiring any physical media. Meanwhile, the Xbox Series S is geared towards casual players or those who want a secondary system in another room or on another TV. With its lower price tag and compact size, it's perfect for anyone looking to game on a budget or simply reduce clutter around the home. Ultimately, there is no definitive winner when it comes to comparing these two consoles; it all depends on your individual preferences and needs. However, both are powerful machines that offer excellent performance at an affordable price point, making them valuable options for gamers everywhere.
In the world of gaming, two new consoles are poised to shake things up: the PS5 and the Xbox Series X. These two models have very different approaches to their game libraries, with the Xbox Series X prioritizing optimized performance for all favorite games acquired on previous generations. For example, you might want your old games to run just as smoothly but will also want optimized versions of your favorite current-generation titles.
On the other hand, the PS5 has a strong focus on exclusive titles that are simply not available on other platforms. Whether you're looking for high-octane action or immersive adventure, the PS5 offers a wide range of experiences that you won't find anywhere else. So if you're looking for top-notch games or immersive worlds that truly immerse you in their virtual spaces, then the PS5 is definitely worth exploring. Both consoles are exciting in their own ways, however, and they each offer something unique and valuable to their respective audiences. In the end, it's up to each individual gamer to decide which console best aligns with their gaming preferences and lifestyle. Nonetheless, both consoles are sure to be massive hits in the years ahead!
PS5 vs Xbox Series X Games
The Xbox Series X and Sony's PlayStation 5 have taken different approaches to their exclusive games lineup. The Xbox Series X has no exclusive titles at launch, instead releasing a list of 30 "optimized for Xbox Series X/S" titles. These include Gears 5, Ori and the Will of the Wisps and Forza Horizon 4. While the Xbox Series X optimizations are indeed impressive, not all of these games are brand new, and they're all available on Xbox One, PC or both. The PlayStation 5, on the other hand, has a handful of exclusive launch titles, including Spider-Man: Miles Morales, Demon's Souls and Sackboy: A Big Adventure. So if you're looking for something new and exclusive to play on your next-gen console, the PS5 is probably the better option. However, if you're more interested in improved visuals and performance for your existing library of games, the Xbox Series X is the way to go.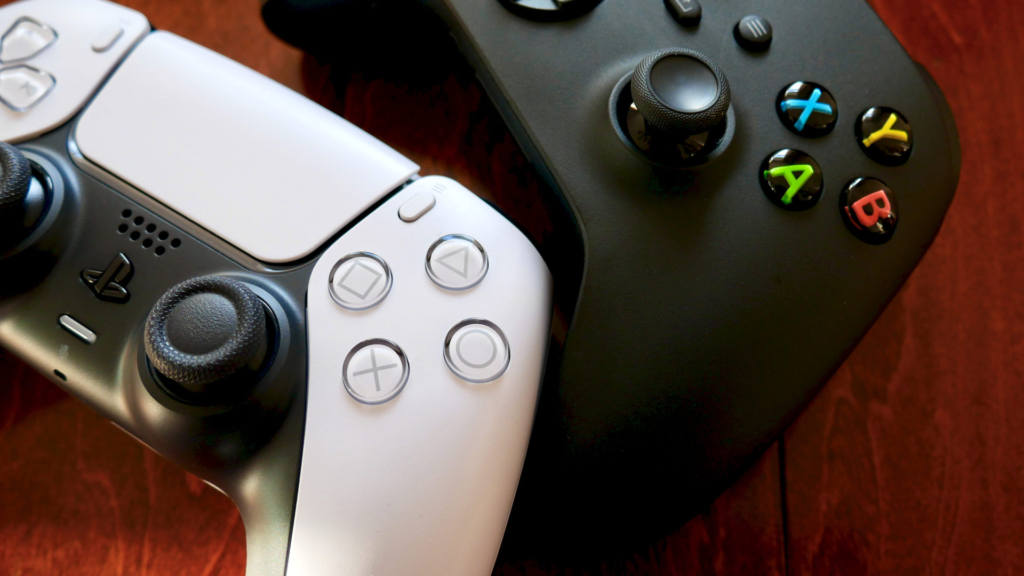 When it comes to third-party titles, both the PlayStation 5 and Xbox Series X are well-stocked. You've got your big games like Assassin's Creed Valhalla, Borderlands 3, Fortnite, Call of Duty: Black Ops Cold War, and so forth. And they both got Cyberpunk 2077, Madden 21, and Destiny 2 late last year. So, it looks like third-party parity is going to continue into this year and beyond. As for backwards compatibility, both systems have excellent features in that department. Although, that does get its own section further down.
When it comes to immersing yourself in the latest and greatest blockbuster games, there truly is no better option than Xbox Game Pass Ultimate. With over 100 different titles to choose from across a variety of genres and platforms, you're sure to find something that suits your gaming preferences. Whether you're looking for intense action-RPGs, challenging puzzle games, immersive racing sims, or anything else in between, there's something for everyone with Xbox Game Pass Ultimate. So why wait? Sign up today and start exploring all the amazing titles available on Xbox Game Pass Ultimate! You won't be disappointed.
It's been interesting to see the differing strategies that Sony and Microsoft have taken with their respective game subscription services. While Microsoft has gone all-in with Xbox Game Pass, offering an ever-growing library of titles for a low monthly price, Sony has been much more tentative in its approach. The recent introduction of the PS Plus Collection is a step in the right direction, but it's still a far cry from what Microsoft is offering with Game Pass.
There are signs that Sony is finally starting to take game subscriptions more seriously, though. The company is reportedly working on a new project called Spartacus that would combine PlayStation Plus and PS Now into a single service. This would be a direct competitor to Xbox Game Pass, and while it's not scheduled to launch until sometime in 2022, it's encouraging to see Sony finally taking this initiative seriously.
Only time will tell if Sony's Spartacus project will be able to compete with Xbox Game Pass, but it's clear that the subscription model is here to stay. As such, it's good to see Sony finally adapting and expanding its own offerings in this area.
PS5 vs. Xbox Series X: Design
When it comes to game consoles, everyone has their own preferences. Some people prefer sleek and simple designs, while others like their consoles to be flashy and eye-catching. Personally, I prefer console designs that are functional and easy to use. And in my opinion, the PS5 fails miserably in this regard. Not only is the system comically large; it's also a pain to switch from vertical to horizontal configuration, and the standard version sports an ugly, asymmetrical design. Thankfully, there are some alternate versions available that are more aesthetically pleasing. But at the end of the day, whether you like the PS5's design or not is entirely up to you.
I'll be honest: when I first saw the PS5, I was a little disappointed. The front panel is very prone to fingerprints, and the "power" and "disc eject" buttons are virtually indistinguishable. However, after using the console for a few weeks, I've come to appreciate its design. The fingerprint issue is less of a problem than I thought it would be, and the buttons are actually fairly easy to distinguish by touch. Plus, the overall look of the console has grown on me. It's still not my favorite design, but it's not nearly as bad as I initially thought. If you can wait a few months for the prettier redesign, I highly recommend doing so. But if you can't wait, the current model is still a great console.
The Xbox Series X is a big console, no doubt about it. But it's not quite as bulky as the Xbox One X was, and it actually manages its space much better. Rather than looking like an oversized router, the Xbox Series X is a sleek black box that looks, at least in its vertical form, kind of like a small tower PC (or a tiny refrigerator). It has a clearly defined power button, as well as a pairing button to make wireless connections painless. And while the drive bay door on the front is still a little annoying, it's not nearly as bad as it could have been. All things considered, the Xbox Series X is a pretty slick piece of hardware.
The Xbox Series X is a powerful console that can deliver an amazing gaming experience. However, there have been some concerns that the vents on the console can become clogged with dust, causing the console to overheat. However, we have not seen any evidence of this with the consoles we have tested. The vents are large and easily accessible, so they should be easy to keep clean. In addition, the Series X comes with a built-in cooling system that should help to prevent overheating. We believe that the Xbox Series X is a great console that will offer gamers a fantastic gaming experience.
For gamers on the lookout for the next big thing, it might seem like there is no better choice than the PS5. In addition to packing some seriously impressive hardware under the hood, this console also boasts a feature that many gamers have been clamoring for: a USB-C port. This innovative technology makes it easier than ever to connect additional peripherals to your gaming setup, and opens up a whole new world of possibilities when it comes to game customization and modding.
At first glance, it may seem that the Xbox Series X has nothing going for it in comparison to the PS5. However, if you look closer, you will see that even though its design is much more conservative and subdued, the Xbox Series X is actually much more sensible overall. The sturdy structure and efficient cooling system are just two examples of how this console prioritizes performance over flashiness. Plus, with its blazing fast load times and cutting-edge SSD technology, the Xbox series X undoubtedly packs some serious gaming power. So if you're looking for top-notch performance from a console that won't break the bank or monopolize your living room, then perhaps you should take a closer look at what the Xbox has to offer.
Hits: 6

Epic Games has surprised everyone with the announcement of a Fall Out Boy concert in Fortnite. This is a unique opportunity for all the fans of the band to enjoy their music live in the game. Here's everything you need to know about the event, [...]

Command & Conquer: Tiberian Sun is a classic real-time strategy game released in 1999. Set in a futuristic world, players can choose to play as either the Global Defense Initiative (GDI) or the Brotherhood of Nod, two opposing factions vying for [...]

In recent years, the gaming industry has experienced tremendous growth and has become one of the most popular forms of entertainment worldwide. From casual gamers to professional esports players, gaming has come a long way since its inception. The rise of [...]