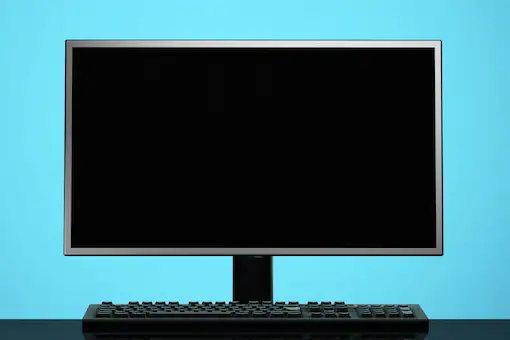 We've all been there—you sit down at your computer to start your workday, but when you try to turn it on, all you see is a blank screen. It's a frustrating feeling, especially when you know you have work to do. But don't despair! There are a few things you can try to get your computer up and running again. First, make sure the monitor is turned on and plugged in. Sometimes the problem is as simple as that. If that doesn't work, try restarting the computer. If that doesn't fix the issue, then you may need to contact your IT department for help. In the meantime, try to stay calm and patient. These problems always seem to happen at the most inconvenient times, but with a little help, you'll be back up and running in no time.
Check the power source
If your computer won't boot up, the first thing to do is check that it's plugged in. Sometimes people forget to turn on the power switch, or the power cord isn't plugged in all the way. If that's not the problem, try plugging your computer into a different outlet. If you're using a power strip or surge protector, plug it directly into the wall instead. And if your outlet is connected to a light switch, make sure that switch is on. If none of these things solve the problem, there could be something wrong with your computer's hardware or software. In that case, you'll need to take it to a professional for repairs.
Check if Monitor is still connected
If you're staring at a blank screen and hearing your computer's startup sound, there are a few possible explanations. First, check that your monitor is plugged into an outlet and turned on. If it's plugged in and receiving power but you still don't see anything, the issue might be with the cord connecting your PC to the monitor. Make sure the cord is firmly attached at both ends and not damaged in any way. If the cord appears to be in good condition, try plugging it into a different input on your monitor (or vice versa). Finally, if none of that works, your computer may be fine—the issue could be with your monitor itself. In that case, try connecting your PC to another display, like a spare monitor or a TV. If you can see your computer's display on another screen, then you know the problem is with your original monitor.
Disconnect Unnecessary devices
One common reason a PC won't turn on is because of interference from another device. If you're troubleshooting your PC, one thing to try is disconnecting any devices that are plugged into it, like printers, webcams, and external hard drives. Once they're unplugged, try starting up your PC again. If it turns on this time, then you know that one of the devices you disconnected was the cause of the problem. If the PC still doesn't turn on, there could be another issue at play. But unplugging devices is a good first step in troubleshooting why your PC won't start up.
Check the Beeping Noises
If you've ever heard a computer make a noise when it starts up, you're not alone. One beep typically means the machine is working as it should. But if you hear a long tone or a series of beeps, similar to Morse code, it likely means something is wrong. Check your PC's manual or go to the manufacturer's website to see what the sounds mean. In most cases, you'll need to open up your computer and take a look inside to figure out what's causing the problem. But if you're not comfortable doing that, you can always take it to a local computer repair shop. Either way, it's important to find out what's causing the noise so you can fix the problem and get your computer running smoothly again.
Safe Mode Could Help
If you're having trouble getting your computer to load Windows™, you can try starting it in safe mode. Safe mode only loads a limited number of programs, which can help you identify your problem. To start in safe mode, turn on your computer and wait for the Windows™ logo to appear. Then, press and hold the F8 key while your computer starts up. When you see the Advanced Boot Options menu, use the arrow keys to select Safe Mode and press Enter. Your computer will then begin to start in safe mode. If you're still having trouble, you can try starting in safe mode with networking. This will load a limited number of programs, as well as your network drivers. To do this, select Safe Mode with Networking from the Advanced Boot Options menu. If you're still having trouble after trying both of these options, you may need to contact a technician for assistance.
Restore the PC to a previous session
Anyone who has ever worked with computers knows that they can be temperamental creatures. Even the most carefully maintained machine can start to experience problems after a while. Luckily, if you have restore points set up on your PC, you may be able to roll back your computer's settings to a time before your issues started. Here's how:
First, you'll need to enter the Windows Recovery Environment. To do this, restart your PC and press the F8 key repeatedly as it starts up. Once you see the Advanced Boot Options menu, select Repair Your Computer.
Next, on the Choose an option screen, select Troubleshoot > Advanced options > System Restore. Once you've done this, select a restore point from a time when your PC was working properly and click Restore. With any luck, this will roll back your computer's settings and fix the issue.
CHECK FOR UNRESPONSIVE APPS
Windows 10 is a pretty great operating system. It's fast, it's stable, and it comes with a ton of features that make it ideal for both personal and business use. However, like any other piece of software, Windows 10 is not perfect. One common issue that users have reported is that their computer won't restart properly. In most cases, this is caused by an app that is not functioning properly. To check if this is the case on your computer, press Ctrl + Shift + Esc on your keyboard to open Task Manager. If you see an app that's unresponsive, right-click it and select End task. Once you've done that, try to restart your computer. If the same apps keep causing problems, you might want to consider uninstalling and then reinstalling them.
UNPLUG USB DEVICES
Sometimes, when you turn on your computer, it just doesn't want to cooperate. If your computer is having trouble starting up, one of the first things you should check is the USB ports. Sometimes devices that are plugged into the USB ports can interfere with the startup process. So unplug any devices that aren't essential, then try restarting your computer again. If that doesn't work, there are a few other troubleshooting steps you can try. But if all else fails, it's probably time to call in a professional.
FORCE A RESTART
If you're having trouble restarting your computer, there are a few things you can try. The first is simply to hold down the power button until the machine shuts off, then push it again to turn it back on. If this doesn't work, or if you're brought back to the same shutdown screen, try unplugging the power cord and leaving it unplugged for at least 10 seconds. Then plug it back in and repeat the restart process. In most cases, one of these two methods should get your computer up and running again. But if you're still having problems, it's best to consult a professional.
Hits: 8

Having a laptop is great as long as its up to date and working fine. But as soon as there is one thing that is not working in the laptop most of he times the whole laptop is rendered useless. This has been one of the downsides of using a laptop and does [...]
The ball mouse was an early type of computer mouse which used a ball that rolled on a surface to move the cursor. These were popular in the 1980s and early 1990s, but have since been replaced by optical and laser mice. While they were in use, however, [...]

The AGESA ComboAM4v2 1.2.0.5 BIOS update is causing issues for CPU performance and OC ability. People have been reporting a lot of problems after the latest update to AGESA ComboAM4v2 1.2.0.5 is AMD's new firmware. This update cannot be rolled back [...]