As fitness experts and avid gamers, the Stamina Products team wants to do what we can to help change the stereotype around gamers. Just because you (and 150 million Americans) enjoy playing games doesn't mean you must live an unhealthy lifestyle. In fact, there are many benefits to being a gamer, including improved hand-eye coordination, increased mental agility, and enhanced problem-solving skills. And, of course, gaming can be a great way to get some exercise! Just stand up while you play, and you'll instantly start burning more calories. So next time someone tries to tell you that gamers are lazy couch potatoes, set them straight with the facts. Gaming can be good for your health – it's all about how you play it!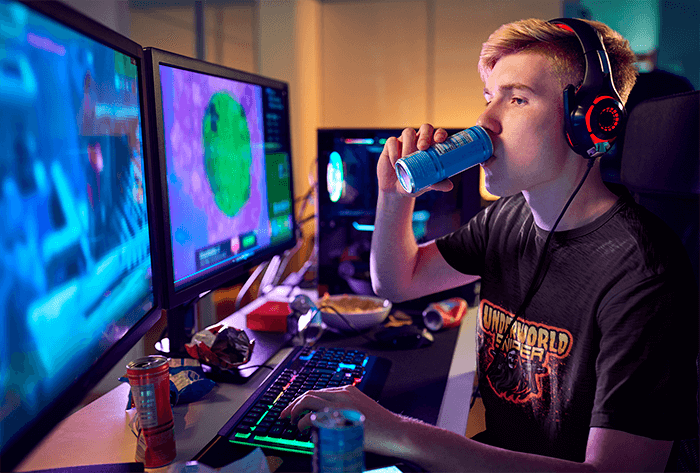 Gaming is a great way to unwind and relax, but it's important to make sure you're taking care of your health at the same time. Here are a few easy tips to help you stay healthy while gaming:
Take breaks often. It's important to give your eyes a rest, so be sure to take breaks every 20 minutes or so. Get up and stretch your legs, or grab a quick snack.
Stay hydrated. It's easy to get lost in a game and forget to drink water, but it's important to stay hydrated. Keep a bottle of water nearby and take sips regularly.
Choose healthy snacks. Gaming marathon sessions can lead to unhealthy snacking, but it's important to choose healthy options. Reach for fruits and vegetables instead of chips and candy.
By following these simple tips, you can enjoy your favorite hobby without compromising your health.
Rest your Eyes
Gaming puts an incredible strain on your eyes, that most people tend to overlook. Not only can eye strain cause headaches and nausea, but can lead to serious damage. You need to periodically stretch out your eye-focusing ciliary muscles. Take some time to look away from your display and focus on distant objects. Walk over to your window and enjoy the natural light — your eyes will thank you. The problem is that when you're focused on a target, be it a small object in the distance or a fast-moving image on a screen, your eye muscles are "locked" in position. This can cause the muscles to spasm and leads to pain and discomfort. In addition, staring at a display for long periods of time can lead to dry eyes, as you don't blink as often when you're focused on something. To help reduce the strain on your eyes, make sure to take frequent breaks, use artificial tears if necessary, and dim the lights in the room so your eyes don't have to work as hard.
Always get ample sleep
Sleep deprivation is a serious problem in the United States, and it can have a number of negative effects on your health. One of the most common ways that people become sleep deprived is by staying up late to play video games. While it may not seem like a big deal to stay up an extra hour or two to game, this can quickly add up to significant sleep loss over time. Sleep deprivation can lead to a number of health problems, including fatigue, irritability, impaired cognitive function, and even depression. In extreme cases, it can even lead to death. If you find yourself staying up late to game, make sure to set a limit on how long you'll play, and stick to it. Your health will thank you for it.
Exercise While You Game
A healthy schedule includes physical activity to work out and relieve stress. It is important to add some form of exercise into your day, whether it's going to the gym or just doing light exercises at home. This not only benefits your physical health, but also helps improve your mental state. When you exercise, your body releases endorphins, which have mood-boosting effects. In addition, regular exercise can help reduce anxiety and improve sleep quality. If you have a stressful gaming schedule, exercise can be a great way to unwind and de-stress. incorporating physical activity into your daily routine is an important step in maintaining overall health and wellness.
Hits: 1

NVIDIA, a leading technology company renowned for its graphics processing units (GPUs), has unveiled a groundbreaking innovation that is set to revolutionize the gaming industry. On May 28, 2023, NVIDIA introduced the NVIDIA Avatar Cloud Engine (ACE) for [...]

Introduction: As technology has advanced over the years, so too have gaming mechanics. From the early days of pixelated graphics and simple controls, gaming has undergone significant transformations that have enhanced gameplay and immersion. In this [...]

As gaming enthusiasts, we invest a significant amount of time and money into our consoles, making it essential to take proper care of these prized possessions. While we often focus on keeping our games up to date and ensuring our controllers are in top [...]