A user posted a review on a famous facebook group that is related to food reviews mostly in lahore but also for other cities in Pakistan.
He was not really thrilled by the service mentioned in his own words that the business doesn't really deserve the type of praise they are given as they are supposed to be very expensive and good.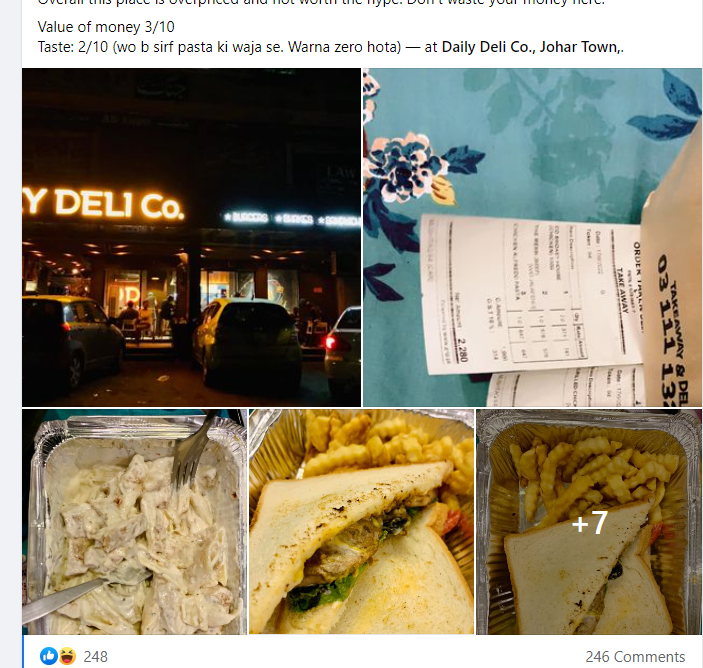 Customer comments about the food
Unchi dukan phikay pakwaan.
A detailed review.
Kafi tareefein sun'ne k bad we tried their food.
I don't know how people even go there on daily basis to get their money wasted. There's nothing extraordinary about their food. It's below average.
What we order:
1) dd smokey house chicken burgers: to start with, the chicken fillets were dry to the extent that we had to cough out to clear our throats. There were no tomatoes. Only one piece of cheese slice. There wasn't even a drop of bbq sauce. Bas everything thing was stacked on one another. Is se achay burgers stalls walon k pas hote hain.
2) the messi beef burger: the tangy sauce was good but wasn't enough in the burger. Beef patties were somewhat cooked okay but the taste was dominant on overall ingredients. Very unbalanced spices. Wouldn't even recommend anyone if it was for free.
3) grilled chicken breast sandwich: had a dry chicken fillet. Coated with only flour and zero spices. Mind you the mentioned grilled chicken
Anyone can easily make that sandwich at home and i bet it will still taste better than their sandwich.
4) chicken Alfredo pasta: the only thing that was worth the money was this pasta. It was creamy and cheesy. White sauce was perfect. All spices were well balanced. The grilled chicken was marinated and cooked perfectly, had its separate taste. And the quantity was reasonable too.
Overall this place is overpriced and not worth the hype. Don't waste your money here.
Value of money 3/10
Taste: 2/10 (wo b sirf pasta ki waja se. Warna zero hota) — at Daily Deli Co., Johar Town,.
The pictures of the food that he had posted
It's unfortunate when a customer has a bad experience with our food. Our kitchen staff works hard to make sure that every dish is cooked to perfection and served promptly. We're sorry to hear that this wasn't the case for the consumer. We would like to offer a full refund for the meal as well as a coupon for a free entrée on their next visit. We hope that this will help to improve their opinion of our restaurant. Thank you for bringing this to our attention.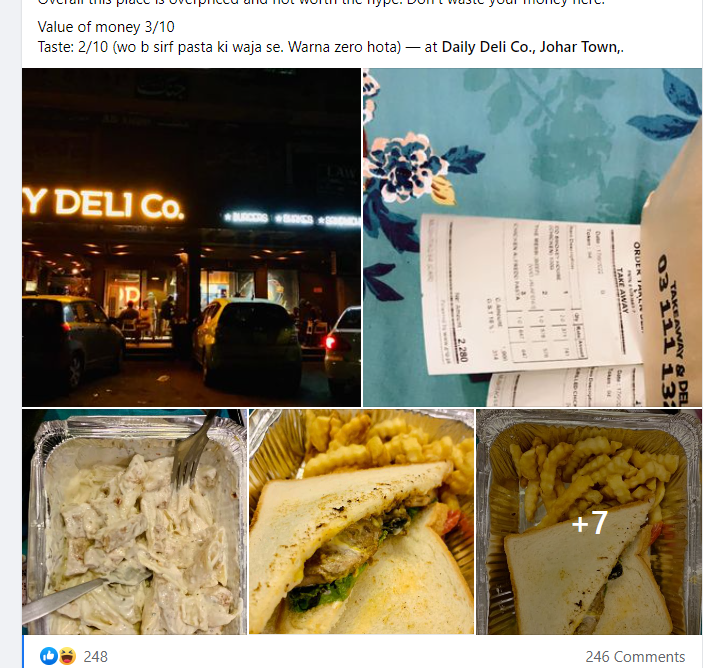 Since this is a private group can't really share the link to the facebook post but Eat Sleep Repeat -ESR- is a fun group to join and find out about what most people are eating and enjoying these days. Plus you get good reviews about things that are really good in the market. There is a supposed 15% discount as well in most places if you are part of this group. So that is fun thing to try.
Hits: 13

It's not every day that you get a reply from a Twitter personality with over 200,000 followers, but that's exactly what happened to me (JauntyM) when I responded to Miss Darcy DeClute's recent tweet celebrating her milestone of reaching [...]

Sony is facing a huge lawsuit where a person called Alex Neill is claiming that they are taking too much profit on the sale of their games. Sony's cut allegedly is 30% of their store sales. Meaning everything they make a sale on their story they get [...]

Hi All, We are condutcing a PS5 Giveaway which will be funded by the PakGamersHub community. The way it will work is that everybody contributes any amount they want to into the PS5. PakGamersHub will keep a 10% percent profit from the proceeds before [...]